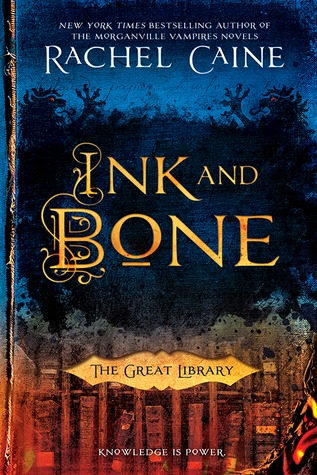 Genre:
Young Adult, Fantasy, Historical Fiction
Published:
July 7, 2015
Publisher:
NAL
Pages:
352

Source:
First to Read
Synopsis:
In an exhilarating new series, New York Times bestselling author Rachel Caine rewrites history, creating a dangerous world where the Great Library of Alexandria has survived the test of time.…
Ruthless and supremely powerful, the Great Library is now a presence in every major city, governing the flow of knowledge to the masses. Alchemy allows the Library to deliver the content of the greatest works of history instantly—but the personal ownership of books is expressly forbidden.
Jess Brightwell believes in the value of the Library, but the majority of his knowledge comes from illegal books obtained by his family, who are involved in the thriving black market. Jess has been sent to be his family's spy, but his loyalties are tested in the final months of his training to enter the Library's service.
When he inadvertently commits heresy by creating a device that could change the world, Jess discovers that those who control the Great Library believe that knowledge is more valuable than any human life—and soon both heretics and books will burn.…
My Rating:
Review:
I received this book from the First to Reads program for an honest review, all reviews and opinions are my own.

In my opinoin this is basically the whole debate between physical book vs. ebook, except on a grander scale/ dystopian world. I definitely am one who prefers physical copies of books compared to ebooks but in a world where and e-reader is the only form to read on or really write through other then personal notebooks it really kicks that debate up a notch.

It was an interesting concept so it starts off with a boy named Jess who is a runner of physical copies of books. He gets the physical books to the buyer for his father. Physical books are made illegal and if you are caught with a book you are sent off for questioning and prison, or possibly even a hanging especially if you are caught as a runner. Since Jess doesn't want to be a runner or in charge of the business his father makes him enroll into the Library. From there on he learns the secrets and problems that are hidden from the knowing public.

I liked Jess he was very smart and could think on his feet quickly. But the story itself was a bit slow especially in the beginning. The world building was pretty good it explains for the most part how things work and why. Of course the questions left unanswered I am hoping gets answered in the next books. Though it took a while to get into the book the characters were well developed and I want to see more and see how Jess deals with being a part of the Library.

I think one of my other favorite characters is Wolfe. Wolfe is like a father figure to all of these kids, especially with Jess and I love how he wants to help them even though he has no real reason to. I did not see some of the plot twists that dealt with Wolfe but I am hoping to see more of him in the books to come.