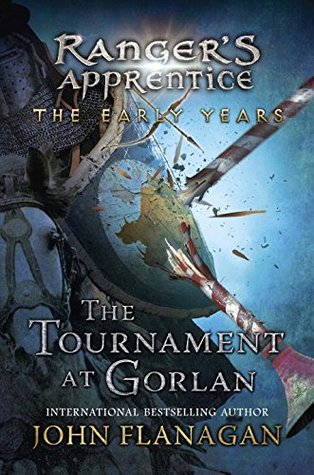 Genre:
Young Adult, Fantasy
Published:
October 6, 2015
Publisher:
Philomel Books
Pages:
384

Source:
First to Read
Synopsis:
When Halt and Crowley discover that the ambitious Morgarath has been infiltrating the Rangers in order to corrupt the Corps, the young Rangers travel north to find Prince Duncan, seeking a royal warrant to stop Morgarath before it is too late. By weakening the Rangers, the most powerful force in support of the King, Morgarath plans to steal the throne.
Yet when Halt and Crowley arrive in Gorlan, they discover just how close Morgarath's scheme is to success. Morgarath has a plan to discredit the Prince and alienate him from his father. At the same time, the Baron of Gorlan has been conspiring to win the trust and admiration of the Council of Barons to further his plan. If the young Rangers are to prevent the coup from succeeding, they will have to tread a dangerous path, which leads them to a thrilling climax at the annual tournament at Gorlan, where a series of bitter duels must be fought and won.
This origin story brings readers to a time before Will was an apprentice, and lays the groundwork for the epic battles that will culminate with The Ruins of Gorlan and The Burning Bridge—Books 1 and 2 of the Ranger's Apprentice series.
My Rating:
Review:
I received this book from the First to Reads program for an honest review, all reviews and opinions are my own.

Warning, I will state that I have not read the Ranger's Apprentice series. I know that even though this is considered the first book in a series it does spin off of the Ranger's Apprentice. I have always wanted to pick up that series just haven't so far and when I saw this one coming out I thought I would try to it just to make sure I like the author's writing style or what not.

Now I did read a couple of reviews about how this book was about Halt and Crowley which many people loved in the Ranger's Apprentice series and I found out even without knowing these characters from the previous series I found I grew fond of their witty banter as well. The book wasn't all that confusing I mean yea I guess I don't really know who Morgarath is but I got a pretty good idea by the end of the book. This is supposed to be kind of a prequel to the Ranger's Apprentice so it wasn't all that confusing for reading wise. I am excited to start the that series though now because of this book.

I think my favorite part in the book is when Halt gets a new horse named Abelard.This scene was hilarious because Ranger's horses can't be stolen but Halt doesn't ask the important questions when coming to try to ride Abelard. I knew when the horse master said that the horses can't be stolen that Halt should take a step back but he didn't. Then he was part of a bucking bronco ride.

I liked the story line and the characters but the only thing I didn't really appreciate was that it was a total sausage fest. There was one lady that was sort of on the outskirts towards the end of the book that liked Halt and helped them, but other than that no women were really mentioned. I dunno if this is how all the books by this author are going to be like but I can if it is I can see that as being a reason for me not continuing the series right away.

Other than that I like the style of writing and hope to read about Crowley and Halt in the other books and do wish to continue and even start the Ranger's Apprentice series, I am glad I picked up this book to see if I should give it a try.