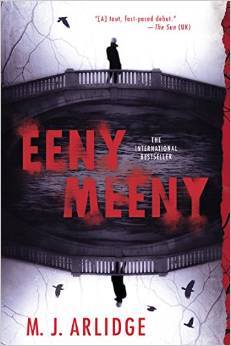 Genre:
Thriller, Mystery
Published:
June 2, 2015
Publisher:
NAL
Pages:
420

Source:
NetGalley
Synopsis:
Two people are abducted, imprisoned, and left with a gun. As hunger and thirst set in, only one walks away alive.
It's a game more twisted than any Detective Helen Grace has ever seen. If she hadn't spoken with the shattered survivors herself, she almost wouldn't believe them.
Helen is familiar with the dark sides of human nature, including her own, but this case—with its seemingly random victims—has her baffled. But as more people go missing, nothing will be more terrifying than when it all starts making sense....
My Rating:
Review:
I received this book from NetGalley for an honest review, all reviews and opinions are my own.

I needed a good mystery and this hit the spot for me. I read some other reviews before looking to much farther into this book and many said if you liked the Saw movies then you would like this. I liked the first couple of Saw movies when it actually but I think after the third one it went down from there. This book lived up to those first couple of Saw movies.

Helen Grace is a complex character and not to much is explained on her int his first book. She is a very hard woman and doesn't give into emotions easily. In the book there is a bit of Dominating that goes on but not much that makes a great impact I am hoping that is explained a bit more in the books to come as well. I'm pretty sure she uses it as a tool to help keep her emotions in check that or to help her think more clearly but I could be wrong and it is something else entirely.

The story itself is very fast paced and keeps the reader on their toes. Once you think you have it figured out it will turn you in a different direction. Some of the flashbacks helped give clues into where this story was headed but it still was an interesting conclusion and how it all came together.

Also is it just me or does it seem like Helen doesn't sleep at all. I swear she should be a walking zombie on her feet with how hard she was working. I know it just seems like that because the book was so fast paced but it seems like she had no down time what so ever. I am excited to see where Helen ends up and if she deals with her emotional and past problems.