First of all I would like to mention that I have completed my 2014 reading challenge on goodreads! I have read 100 books!

Raquel
has completed her goal of reading 100 books in 2014!
Crown of Midnight by Sarah J. Maas
This is the second book in the Trone of Glass series. I really enjoyed this one it definitely had more action that I thought was lacking in the first book. I really enjoyed the things that were revealed near the end of this book.
Gone Girl by Gillian Flynn
I read this book originally because of the movie that was coming out. So I had to read this book before I saw the movie. It was surprisingly good. The movie also followed the book pretty well. Such a great mystery novel.
Where she Went by Gayle Forman
This is the second book in the If I Stay Duology. This second book was a great final wrap up to the first one. Adam was a bit annoying at parts but I liked how they still connected after not seeing each other for three years. It seems like even in the darkest of times there is always still hope to rely on.
Obsidian by Jennifer L. Armentrout
This is the first book in the Lux series. I really enjoyed this book surprisingly. I always saw this book on the shelves to buy but never picked it up. I don't read many alien books but a group on goodreads was reading this and since it was free I thought I would give it a try. I really liked Katy is a very relatable character because she loves books and has a book blog as well as makes video's. Which is what I also enjoy to do so she was a really easy character to relate to.
Bound by Night by Larissa Ione
This is the first book in the Moonbound Clan vampire series. This was a great mix of vampires and Native American folklore. This will probably be another author where anything she write I will most likely read. I am very excited to continue on with the series and figure more out about the leader of the clan.
The Demon in the Wood by Leigh Bardugo
This is a short story and prequel to the entire Grisha trilogy and was all about the Darkling before he became what he did. It also showed that he was more humane at one time and did have values and how they could have become so twisted over time. Because of his mothers fears that she put on to him he had to become something else entirely. Something stronger.
Ruin and Rising by Leigh Bardugo
This is the third and final boook of the Grisha trilogy. It was an interesting read but I am not sure if I was happy with this for an ending. I was sad to see that this book did not need the bird that was portrayed on the cover. The ending was a surprise with how everything ended up. I understand that the characters were young in this series but Mal seemed really immature through out he wasn't even able to listen to reason most times. I did enjoy the series through out though and hope to finish up the other short stories.
Redeemed by P.C. Cast and Kristin Cast
This is the final book of the House of Night series. This was way to long and could have been shortened significantly. It did wrap up thing mostly and I loved the concept of the entire series but it was just lacking something though I did connect to some of the characters my favorite by far would have to be Aphrodite. Just because she seemed like she didn't care about anything but deep deep down she was a pretty decent person once you got behind all the defensive walls.
The Infinite Sea by Rick Yancey
This is the second book in the The 5th Wave trilogy I think is what it is going to be. This had second book syndrome. It definitely was a let down from the first book. It was basically all filler till the end. In this one you learn many of the characters back story more than what they are doing at present, because at present they did a lot of waiting around. Also I was upset not much was said in Cassie's perspective. It was mostly the new characters and Evan. Though I did like what Ringer finds out about the aliens. Very interesting. Still intrigued and want to continue but I hope the third book blows me away.
Daughter of Smoke and Bone by Laini Taylor
This is the first book in the Daughter of Smoke and Bone trilogy. I have had this book sitting on my shelf for a little while along with the second book. One of my groups that I am in read this for the month of September but I had to many other books I had to read that month I believe it was and didn't get to it. Finally did and am glad I did. It takes place in Prague a place I now wish to visit since my great great grandma is from there. The only part that was a bit slow for me was the ending but I understood why it had to be that way.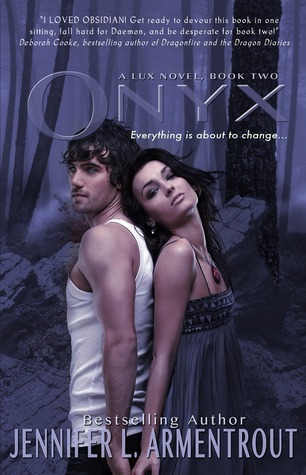 Onyx by Jennifer L. Armentrout
This is the second book in the Lux series. Still was pretty fast pace and interesting but Damian got on my nerves a little with all of his not saying Blake's name correctly. Other than that it stayed interesting. I am excited to keep continuing the series. I didn't like Damian to much until the ending in the first book in this one I am starting to like him a lot more. The other thing that some times irk's me is when 80% of the book could have been avoided if they just talked to someone or with each other. We need a book to teach communication apparently no one knows how to do that.
Those were all the books I read for the month of October. I would put up what I plan to read for the month of November but I will be busy and don't plan to read much of anything. I am currently reading Heir of Fire by Sarah J. Maas and I do want to finish that. Another one that is short and should be able to finish in a few hours is Speak Laurie Halse Anderson. It will be great if I can finish those two books. If I have any more time to read I will continue on with Outlander by Diana Gabaldon.
As you may or may not know I am participating in NaNoWriMo again this year. I hope I can win this second year. I did end up winning last year so I am nervous and hope to do better then I did last year or at least the same which was just a little over 50,000 words. I hand write everything out so if my word count update is a little behind it is because of that. I usually type up what I have done Wednesday - Sunday on my days of on Monday and Tuesday. Sometimes I may find time to type during the work week or I might just write more. So far my story is coming together well. I am a pantser writer. What that means is I don't do outlines. I just write and go until the end hopefully. I was a bit worried with this story since first of all I have never written anything in the genre of Science Fiction and secondly I didn't really have an idea where this story is going. I know the beginning parts but from there is anyone's guess. We will have to see how it goes. I will update on how I am doing through out.
If you would like to friend me or see how I am doing on Nano my profile is here:
http://nanowrimo.org/participants/rocki21
How did you fair reading wise for the month of October? How was everyone's Halloween?